With a loving community + high touch support,
you're sure to start manifesting like never before.
Guiding life explorers

like you
to improve your lives through lifestyle and mindset modification
Manifestation Ebook
(
$19

$9!)

Get clear on what you desire and manifest according to your truth, manifest according to YOUR zodiac sign! It's the first step to creating anything you want in your life.
DOWNLOAD NOW
Meditation
(Free)
Relax and open your mind with this free audio meditation >>>
Enter Your Best Email
To Download It NOW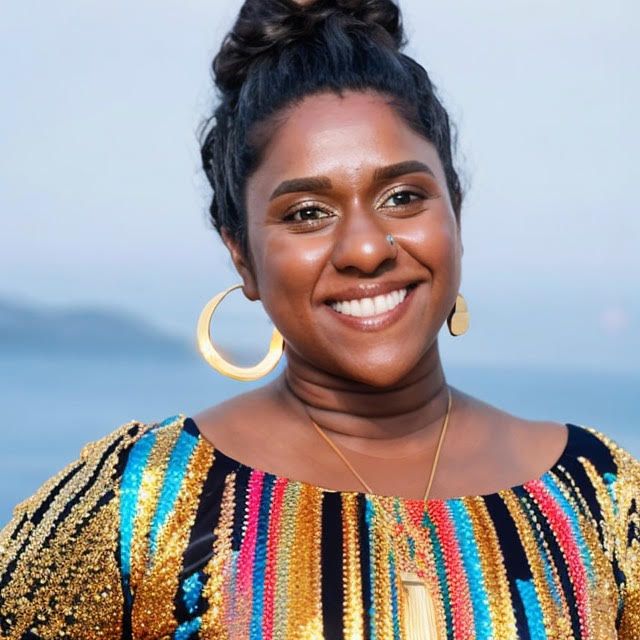 Experience happiness every day and live the life you deserve.
Hi, I'm Latha Jay, and I've been using my love of manifesting to empower my life for the last 10+ years. Join me in the journey and start manifesting your way to your dream goals.
More About Me
Are you
ready

to take the first step?

(Let's take it together. Go ahead and choose your journey)
1-1 Coaching
You and me. One-to-one. Let's work through any limiting beliefs and get the support you need.
Apply Now
Manifestation Journal
Manifest love and money, and embody joy with a guided journal for three easy-to-follow manifestation techniques.
Buy Yours Here
What can you expect

 from Latha Jay?

I am all about helping you refocus on what matters (i.e., what you really want!), feeling good in the process, and making moves. The more you manifest + see them come to life, the more motivated you will be. No matter which route you take, you can count on three things:
Love + Support
I'll encourage you to push your limits, to take control of your life story, to create new possibilities, to love deeper than you ever imagined, to be courageous in your choices and to choose powerfully.
Access To My Brain
When you work with me, you not only get access to me, you get access to all the mentors I have learned from.
Personalization
I'll ask you questions + dig deeper to find the root of your struggles + help you finally release the disappointment you've been carrying around for way too long. You'll have all the tools you need to manifest everything you've ever wanted.
Membership

means

unlimited access

We have training, live calls, coaching, workbooks, reflections, and more, waiting for you now.
Andrea L
"I have been in Latha's Journey Group Coaching Program for about 2 months and within the first 2 weeks of working with her privately, I manifested $14k in sales for my career coaching business and $24k altogether in the first month of my membership. I've been following Latha for years on social media, but after joining the group I am finally able to say that I have a fully integrated spiritual support system that allows me to trial and error my transformation process so I can create what I want in this life."
Becca K
"Latha is an incredible soul, full of love and wisdom. She has manifested a wonderful life and is passionate about helping others to find within themselves what they seek in order to maximize their life as well. She has mastered the perfect balance of professionalism and a genuine, down-to-earth demeanor, allowing her to connect with all who are blessed to cross her path."
Elise S
"Working with Latha, I noticed so many areas of my life improving, way past my health. It was amazing! It never felt like hardwork, yet, I was seeing great results. I feel absolutely empowered and beautiful. Every conversation felt like I was speaking with a friend."
 

Bella L
"The Journey program is so much more than a spiritual manifestation group. Being a part of this group has been instrumental in developing self awareness and finding my place in the world. I am always amazed at Latha's wisdom and insight into many different topics. She is an excellent supporter, a wise sounding board and helps many people on their unique journey. I will forever be grateful for the space that she has created and for the members who have turned into family. "   
Lyn E
"Latha Jay & The Journey have been nothing less than life changing for me. Latha came into my life at a time when I was mentally & emotionally hanging on by a thread. Through the next two years (and counting), she has helped me to rediscover my power and retake control over how I show up in the world. With compassion, genuine love, and gentle honesty, she's guided me in healing old wounds and to move through just barely surviving to thriving. I am eternally grateful for her and The Journey group! "
 

Shannon T
"As a woman of color, I was looking for a group of more people that looked like me and shared my experiences. I know I have found that in Latha's group. It is definitely a safe space. "   
Taresa F
"We was never taught how hard life can be. My cup was full with pain, fear Not setting boundaries ,not loving myself. Since I have been with my tribe NOW, My cup is half way full with love for myself. Setting boundaries for others and respecting the word NO. And have gratitude for me, thank you. My tribe, thank you, Latha "
Carolyn G
"Working with Latha cannot be summarized in a few sentences or paragraphs. All I can say is this, if you are struggling to achieve your dreams, Latha will help you break through every blockage imaginable. Her guidance and wisdom helped me manifest the life of my dreams. I am now a few months shy of being a nomad with all the resources I need to start a new career as a content creator. I am walking a path with the wind on my back and the universe providing all the support I need. Latha was instrumental in getting me here! "
Hello there, Love! 
I'm your Spiritual Manifestation Coach, Dynamic Speaker, and Mindset Specialist. 
For over a decade, I have studied the works of and learned from some of the most influential leaders in the personal growth and achievement world such as Louise Hay, Jack Canfield, Mike Dooley, Gregg Braden, Gabrielle Bernstein and many more.
I have learned how to teach people to create incredible lives with practical actions producing meaningful results.
I believe everyone is worthy of living a life they love.
The real challenge is are you ready to go for it?
Because when you finally start letting go of your old way of thinking you are empowered to invite in all the good that is waiting for you.
Learn How I Help My Clients
Don't miss the signs!
New meditations, motivations, and manifestations delivered to your inbox.